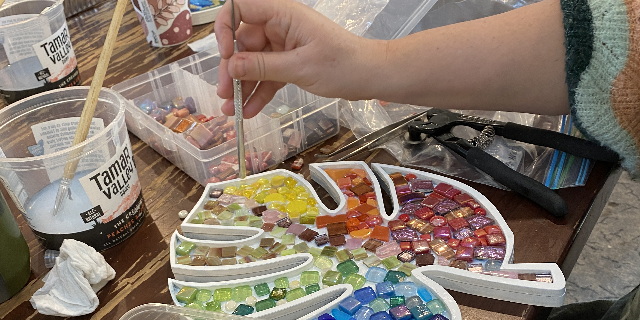 Learning Mosaics
– Want to learn mosaics, but not sure where to start? If you're near Canberra, why not take a mosaic workshop or course with Ali.
– Having an issue with using tools, working with colour, confused about glues, substrates or grouts?
– Are you confused by all the conflicting information on Mosaic forums about glues, grouts, colour, tools, materials and mosaic design?
– Do you find it difficult to get to a mosaic class?
– Have you been to a mosaic class, but left wanting more technical knowledge about why some products work better than others?
– Are you looking for something more personalised than a pre-recorded online class?
Perhaps Mosaic Coaching from Ali may be just the ticket for you!
Ali has a wealth of knoweldge of glues, grouts and tools, gleaned from a life of building and renovation, and as an artist & colorist of over 40 years.
She is an accomplished trainer, and believes in plain speaking and common sense.
Ali can tailor a mosaic coaching session to suit your specific needs. They can be conducted via phone, zoom or face-to-face in Canberra.
Display 15 Products per page